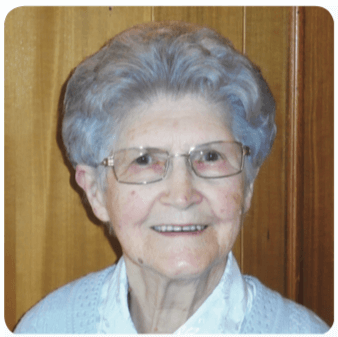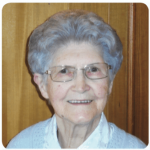 Marguerite LE GUEN: Support for a patient with pancreatic cancer
---
MORE THAN 35 YEARS BY YOUR SIDE
First of all, I would like to say that I was very moved and surprised to find myself appointed honorary member of the Foundation by Monique BELJANSKI and Liliane LE GOFF.
I did nothing but inform and help those who were in anguish to find solutions.
My name is Marguerite and Jean LE GUEN was my husband. We have 4 children and worked on a rental farm. We left the farm at the end of 1983 and Jean died in 2014 at the age of 89.
In 1982, Jean was diagnosed with a pancreatic-type mesenteric adenocarcinoma. After a biopsy, the surgeon told us that there was nothing he could do. The diagnosis was a chemotherapy and radiation resistant pancreatic center. We were told that Jean has 2 to 3 more months to live.  
Our second daughter, who is a speech therapist, was aware that certain cancers can be cured by the Jean Solomides (French physician) method. She called the doctor, but no treatment was available for Jean's case.
However, our daughter was given the address of another doctor, Dr. N, in Finistère, who also provided alternative treatments.
On the phone with the doctor's office, the secretary told her that the doctor was no longer taking new patients and the wait time for an appointment is approximately 2 to 3 months. Our daughter replied that by then her father would probably be dead.
Her sister, a nurse, succeeded in convincing our surgeon to call this doctor, who then, surprised by the referral met with Jean 2 days later. 
At that time, Dr N. was already working with Professor Mirko Beljanski who was doing cancer research. Jean was one of the first patients to benefit from it. We then felt great relief and great hope.
Nine months after the biopsy, Jean suddenly found himself very tired, and Dr N. proposed hospitalization with radiotherapy, at a low dose because the growth of the tumor has been stopped by the Beljanski supplements.
The radiotherapist did not believe the results and recommended 10 radiation sessions. I went to see my husband and help him eat every day. The farm was left alone during this time.
After the 4th session, the radiotherapist stopped the treatment. I asked to see the manager to find out what was going on. The manager replied that Jean's condition was getting worse and worse.  I then asked him what he would do himself if it was a member of his family.
After looking at me for 30 seconds, he confessed that he would have continued.
I said to him: "Well! Do it for John ".
Before the 10th session, the tumor had started to shrink and Jean had a total of 30 sessions. At the end of radiotherapy, the doctors observed that Jean's condition has improved remarkably. 
During the treatment, the doctors knew that Jean was taking Pao pereria, Golden Leaf of Ginkgo Biloba and RNA fragments..
If in 1982 I had resigned myself and accepted the recommendations of the doctors, my husband would have died a few months later!
Instead, I dared to believe and was convinced that another way was possible. With my children, we fought and searched and finally had the pleasure of meeting Mr. and Mrs. Beljanski. We were lucky to have access to their discoveries from which Jean was able to benefit.
Thank you to Professor Beljanski. He was well ahead of his time. Thanks to him, Jean has survived an extra 32 years after being told that he only has a few more months to live. 
Personally, I take Ginkgo and RNA fragments for prevention and I feel great at over 90 years old.