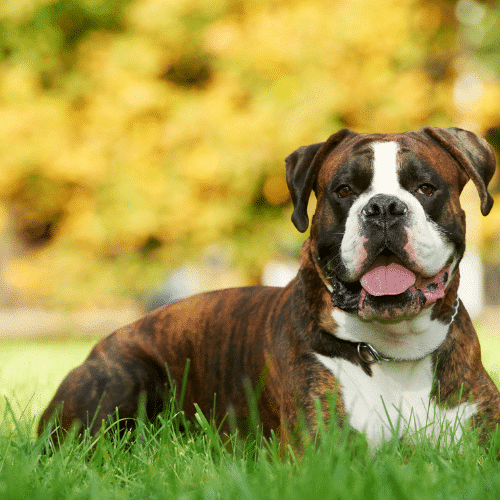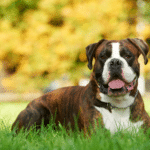 Mrs. F Testimonial:
Intestinal Cancer of a Dog
---
JO-9 year old boxer, from Mrs. F.
December 25 and 29, after undergoing different tests, Jo, who weighed 37 kg, lost 9 kg very quickly. We were very worried because his blood work was catastrophic. Alas, in the report of December 29, the verdict was in: cancerous tumor of jejunum. The veterinarian wanted to operate soon after this diagnosis but there would be risk involved, because he was very weak and also cardiac (treated since a year and a half old with Fortekor 20). I asked how long he would live without an operation: one month, two with luck. The veterinarian gave me 8 days to try the Beljanski products, no more, for fear of an obstruction of bowels…
Having read all the documents sent by The Beljanski Foundation, and having understood that the Beljanski extracts are non-toxic, I opted for the most appropriate dosage in an attempt to save Jo's life. I put the gel caps in the middle of a ball of ground beef that I had in one hand and in the other hand, I kept a morsel of liver, which Jo liked very much. He ate the food and the gel caps. I gave the gel caps to him at night, too.
3 capsules of Pao pereira + 3 capsules of Golden leaf of Ginkgo biloba + 3 capsules of Rauwolfia vomitoria was given each day. I returned 8 days after the doctor's visit and Jo had already gained back almost 1 kg. It was only a little weight, but encouraging. A slight improvement of his blood work gave us even more hope. Before these results, the veterinarian gave me a time period of 8 days. After having followed my method, Jo gained 1 kg. After 15 days, Jo experienced 2 kg of weight gain and an improvement in blood work. The vomiting, which took place in the beginning, has stopped, and Jo's appetite is back. The veterinarian told me to continue with what I am doing.
Jo had gained back his weight and his vitality. The jejunum tumor had disappeared, but I still continued with the extracts. One year later, Jo is doing just fine.
To those who dare evoke a placebo effect, reflect on the story of Jo.
Thank you to the memory of Mirko Beljanski, his family and The Beljanski Foundation. Thank you to the understanding and the cooperation of the veterinarian who took care of Jo.
Mrs. F