*Clinical trial with Beljanski's RNA Fragments
Dose Escalation Study of an Antithrombacytopenic Agent in Patients with Chemotherapy Induced Thrombocytopenia
Online magazine Bio Med Central BMC Cancer 10:565 – 2010.
Low platelet counts, a condition called Thrombocytopenia, is a side effect of chemo drugs that damage the bone marrow stem cells that normally produce platelets. The Phase I trial showed that Beljanski's RNA fragments could prevent thrombocytopenia by inducing the production of new platelets. Patients taking the RNA fragments had their platelet levels return to normal and chemotherapy treatments were completed without dose reductions, platelet transfusions, or suspensions. The RNA fragments protected platelet levels in patients with many different types of cancer who were taking many different anti-cancer drugs. Moreover, patients did not suffer any negative side effects as a result of taking the RNA fragments. The results suggest further studies aimed at establishing the RNA fragments as a standard component in all chemotherapies that cause significant platelet loss.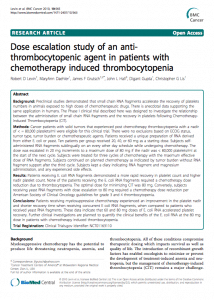 In 2004, the Prestigious Cancer Treatment Centers of America® (CTCA) completed a clinical trial on the Beljanski's formula of RNA fragments, which was conducted among cancer patients undergoing different chemotherapies. Thanks to the RNA fragments prepared according to Dr. Beljanski's proprietary process, the cancer patients all recovered a stronger immune system and managed to go through the end of their chemotherapy treatment without getting thrombocytopenia – a frequent and dangerous side effect of the chemotherapy drugs.
Abstract
Background: Preclinical studies demonstrated that small chain RNA fragments accelerate the recovery of platelets numbers in animals exposed to high doses of chemotherapeutic drugs. There is anecdotal data supporting the same application in humans. The Phase I clinical trial described here was designed to investigate the relationship between the administration of small chain RNA fragments and the recovery in platelets following Chemotherapy Induced Thrombocytopenia (CIT).
Methods: Cancer patients with solid tumors that experienced post chemotherapy thrombocytopenia with a nadir of < = 80,000 platelets/ml were eligible for this clinical trial. There were no exclusions based on ECOG status, tumor type, tumor burden or chemotherapeutic agents. Patients received a unique preparation of RNA derived from either E. coli or yeast. Ten patients per group received 20, 40, or 60 mg as a starting dose. Subjects self administered RNA fragments sublingually on an every other day schedule while undergoing chemotherapy. The dose was escalated in 20 mg increments to a maximum dose of 80 mg if the nadir was < 80,000 platelets/ml at the start of the next cycle. Subjects were treated for three cycles of chemotherapy with the maximum effective dose of RNA fragments. Subjects continued on planned chemotherapy as indicated by tumor burden without RNA fragment support after the third cycle. Subjects kept a diary indicating RNA fragment and magnesium administration, and any experienced side effects.
Results: Patients receiving E. coli RNA fragments demonstrated a more rapid recovery in platelet count and higher nadir platelet count. None of the patients receiving the E. coli RNA fragments required a chemotherapy dose reduction due to thrombocytopenia. The optimal dose for minimizing CIT was 80 mg. Conversely, subjects receiving yeast RNA fragments with dose escalation to 80 mg required a chemotherapy dose reduction per American Society of Clinical Oncology guidelines for grade 3 and 4 thrombocytopenia.
Conclusions: Patients receiving myelosuppressive chemotherapy experienced an improvement in the platelet nadir and shorter recovery time when receiving concurrent E coli RNA fragments, when compared to patients who received yeast RNA fragments. These data indicate that 60 and 80 mg doses of E. coli RNA accelerated platelet recovery. Further clinical investigations are planned to quantify the clinical benefits of the E. coli RNA at the 80 mg dose in patients with chemotherapy induced thrombocytopenia.
Trial Registration: Clinical Trials.gov Identifier: NCT01163110
Click here to view publication.
Read the full publication
View this publication's details