*Pao Pereira Extract Attenuates Testosterone-Induced Benign Prostatic Hyperplasia in Rats by inhibiting 5α-Reductase
Liu J, Fang T, Li M, Song Y, Li J, Xue Z , Li J, Bu D, Liu W, Zeng Q, Zhang Y, Yun S, Huang R, Yan J. Pao Pereira extract attenuates testosterone-induced benign prostatic hyperplasia in rats by inhibiting 5α-reductase. Scientific Reports (2019) 9:19703.
Scientific Reports 9, 19703 (2019). Doi: 10.1038/s41598-019-56145-z. E pub Dec 23 2019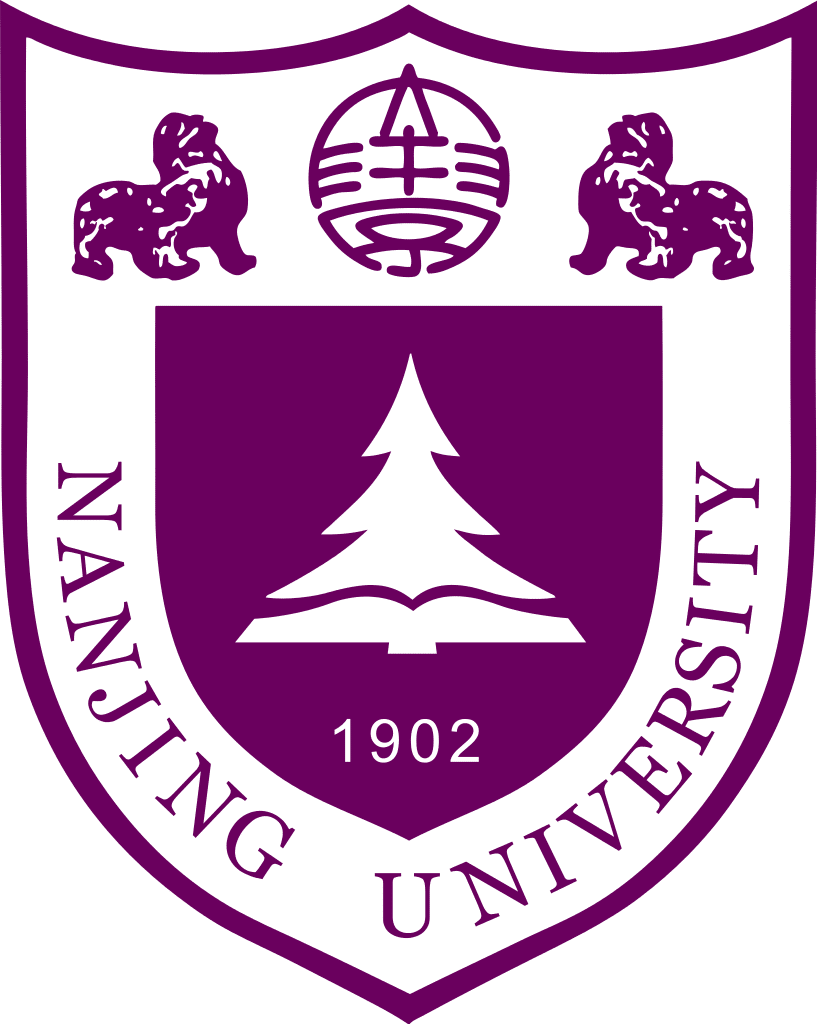 BPH (Benign Prostatic Hyperplasia) is so common and discussion about its causes is so frequent that we could well expect there to be good options for shrinking prostates back to normal size and restoring normal urination and prostate health. The usual options for BPH treatment are several widely prescribed drugs that work to reduce prostate size but are also associated with a variety of unpleasant side effects. New research shows that the Pao pereira plant extract, famous for its broad-spectrum anti-cancer effect, is an excellent BPH treatment — as good as the drugs — and it doesn't induce negative side effects. The study was conducted at Nanjing University under the direction of Dr. Jun Yan.
The key is a newly discovered modulating effect of the Pao extract on enzymatic pathways that promote the development of BPH. The new paper is entitled "Pao Pereira Extract Attenuates Testosterone-Induced Benign Prostatic Hyperplasia in Rats by Regulating 5a-reductase". The critical enzyme pathway is 5a-reductase which converts testosterone to dihydrotestosterone (DHT)—a more active hormone that triggers the proliferation of prostate cells that leads to BPH. By lowering the level of 5alpha-reductase the Pao extract lowers the level of DHT thus removing the trigger for BPH.
The study confirms that the Pao extract suppresses inflammation of the prostate by affecting the hormone imbalance that occurs in older men as testosterone levels drop and 5a-reductase increases the level of DHT. The extract is also effective at halting the overgrowth of BPH cells in the prostate by inducing cell cycle arrest. It also lowers the level of androgen receptor that mediates hormonal induction of BPH and reduces the level of PSA, the well-known marker for prostate inflammation and cancer. And referring to cancer, by lowering prostate inflammation Pao pereira extract lowers the risk of progression to prostate cancer.
The experiments were conducted both in vitro and in vivo and no evidence for side effects were seen. The data indicates that the Pao pereira extract provides an ideal therapeutic response for BPH that can be taken without concern for negative side effects. This new work, together with previous research, shows that Pao pereira is effective against all stages of prostate health problems including chronic inflammation, prostate cancer and advanced prostate cancer.
Abstract

Benign prostatic hyperplasia (BPH) is one of the most common diseases in the urinary system of elderly men. Pao extract is an herbal preparation of the bark of the Amazon rainforest tree Pao Pereira (Geissospermum vellosii), which was reported to inhibit prostate cancer cell proliferation. Herein we investigated the therapeutic potential of Pao extract against BPH development in a testosterone-induced BPH rat model. The administration of testosterone induced the prostate enlargement, compared with the sham operated group with vehicle treatment. The BPH/Pao group showed reduced prostate weight comparable with BPH/finasteride group. Notably, Pao treatment did not significantly reduce body weights and sperm number of rats, compared with the control group. Furthermore, Pao extract treatment reduced the proliferative index in prostate glands and testosterone-induced expression levels of AR, as well as androgen-associated proteins such as SRD5A1 and PSA. Moreover, Pao extract and its active component, flavopereirine, induced cytotoxicity on human prostate epithelial RWPE-1 cells in a dose- and time- dependent manner with G2/M arrest. Consistently, Pao extract and flavopereirine suppressed the expression levels of SRD5A1, AR and PSA, respectively. Together, these data demonstrated that Pao extract suppresses testosterone-induced BPH development through inhibiting AR activity and expression, and suggested that Pao extract may be a promising and relative safe agent for BPH Treatment.
BPH Treatment & Pao Pereira Data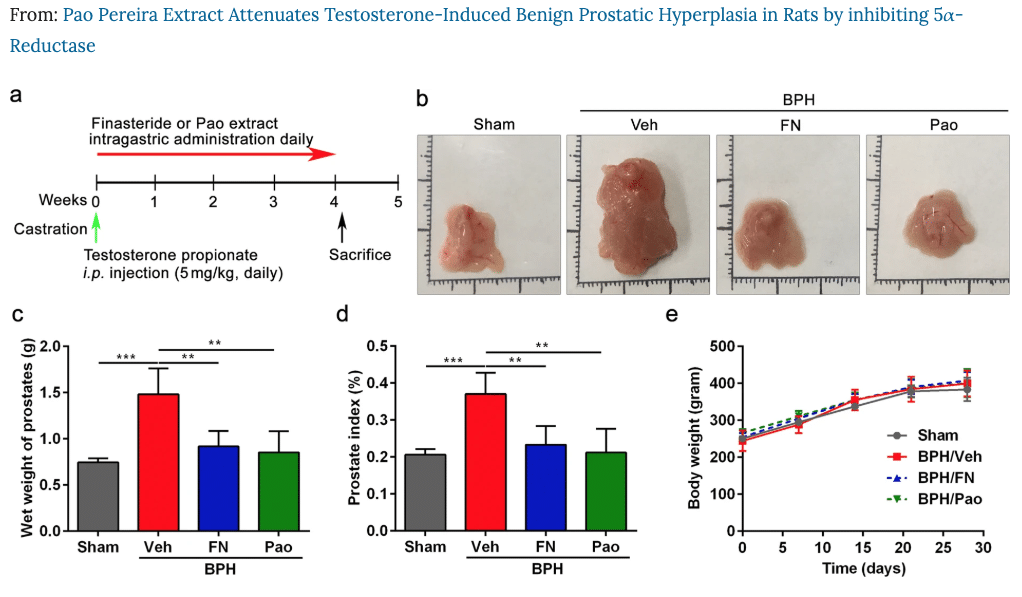 The figure above shows the effects of Pao extract on rat prostate. (a) Schematic presentation of experimental procedure. Sham group as control group: After sham operation, rats were treated with i.p. injection of corn oil and oral saline; BPH/Veh group: After castration, rats were i.p. injection of 5 mg/kg testosterone propionate (TP) daily and were intragastric administrated with saline; BPH/FN (Finasteride) and BPH/Pao groups: After castration, rats were i.p. injection of 5 mg/kg TP and intragastic administration of finasteride (10 mg/kg) or Pao extract (20 mg/kg) daily for 28 days, respectively. (b) The representative photos of the dissected prostate glands from four groups. (c) The weight of whole prostate without urethra. (d) The changes in the rat prostate index of four groups. (e) Effect of Pao extract on body weight. n = 5; **p < 0.01; ***p < 0.001.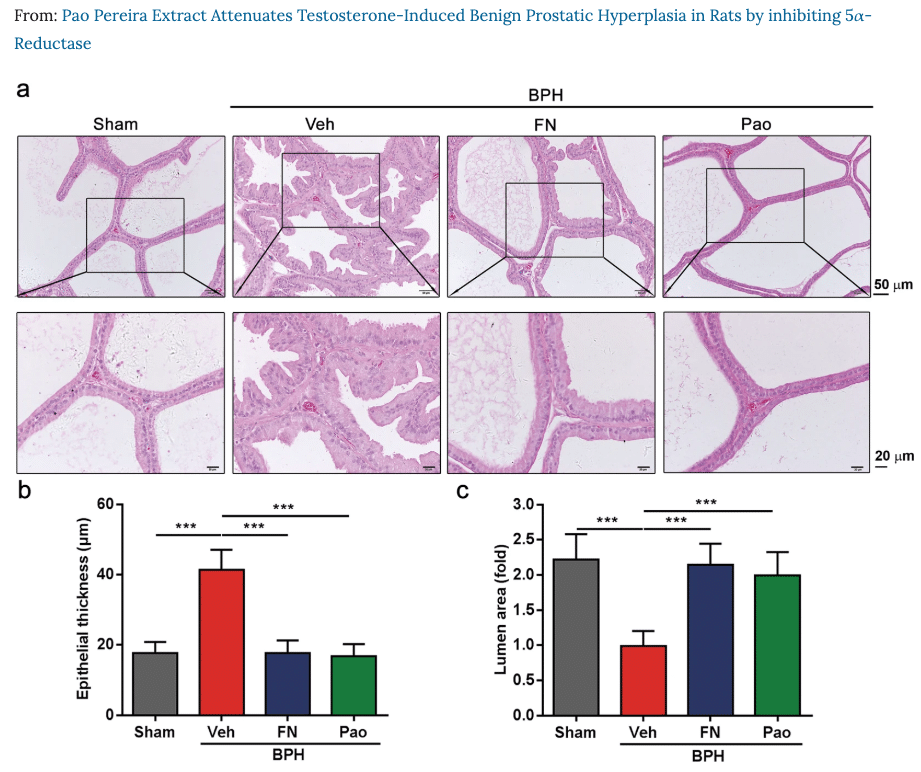 The figure above shows the histopathological analysis of the prostate tissues in the testosterone-induced BPH rats after being treated with Pao extract. (a) H&E staining of the sham control, BPH/Veh, BPH/FN and BPH/Pao groups. The sections were photographed by microscope. The scale bars in photos above are 50 μm and in photos below are 20 μm. (b) Quantification of the thickness of epithelial layers; (c) quantification of the fold changes of the lumen areas among four groups. ***p < 0.001.
Read the full publication
View this publication's details