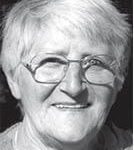 I had to undergo surgery because I had very progressive cancer at 62 years old. After 15 days in the clinic, I was able to go home and everything seemed to be going normally for 3 weeks. However, I had to return to the hospital to undergo chemo and radiation sessions, which probably meant there was a risk of complications.
Knowing the incredible story about a miracle patient with throat cancer who was cured through the combined use of a treatment developed by Dr. Beljanski and chemo, we made an appointment with a doctor who was familiar with Beljanski's work.
My husband told me: "In order to take good care of you, we will not wait to get us these formulas."
We indeed knew that Mr. Albert BONNIN, this great patient of the region whom everyone was talking about, had been impressed by the rise of his platelets (thanks to the RNA fragments of Beljanski, currently the Real Build of the United States) and by the absence of all the known side effects caused by chemotherapy.
He did not hide his satisfaction and showed his analysis everywhere. For 3 years we had known that he was no longer taking any medicine for his cancer, so according to his doctor endocrinologist, his recovery was only a miracle.
Silence nor media misinformation will not deceive the truth growing in the heart of the deep France of our countryside: "The Beljanski formulas work well to better control very serious diseases such as cancer, AIDS, auto-diseases. immune, etc! "
More and more survivors of these pathologies, which are generally fatal, have the courage to testify in those around them! Whether by satisfaction or rather by happiness but also by duty and citizenship or by simple recognition.
Here is one example among thousands of others with the wonderful story of Madame Yvette G. and Monsieur Albert B. This is how the "Beljanski" snowball gradually turns into an avalanche and nothing can stop the natural element: THE TRUTH.

We ordered these famous formulas.  In the meantime I learned from the oncologist that I was in stage 3 and that it was therefore very serious. I returned to the Pasteur Hospital in NIORT and there was a disaster! They connected me to infusions from Monday morning to Friday evening. I was taking my capsules, but because I kept vomiting from the strong chemotherapy drugs, they were not working.
I was devastated! I couldn't get up anymore. I was having a gout attack and had diarrhea… It went on all week and I came home like a wreck. For nights I literally crawled to get around.
In addition, walking very little, I suffered from a phlebitis and had to return urgently to the clinic. Although well cared for, an embolism formed and I was put in a filter. I was really unlucky!
I did not get out of bed for 3 weeks, and being anemic, I also needed a transfusion. I then returned home where I was ordered 8 days of rest before resuming the second course of chemo and radiation.
I was totally demolished!
But this time, as I no longer vomited my capsules, they had an effect on me and prevented the harmfulness of this second treatment, which I therefore tolerated very well.
Now I wear myself like a charm to the amazement of my doctors who can not believe it.
Throughout the treatment at the hospital or clinic, all my doctors knew that I was using BELJANSKI formulas because I swallowed my 18 capsules per day of this treatment, which resuscitated me, in front of their eyes.
I wanted to be honest with them, even though I had been warned of some possible hostilities from the medical profession, which is generally misinformed and manipulated. We have since become friends with Albert BONNIN and we are enjoying our retirement peacefully while campaigning so that our experiences are known.

These wonderful capsules that have given us hope, are able to save the lives of millions of human beings. Let us leave the conclusion of my testimony to the oncologist at NIORT: "Mrs G., what more do you want!"
I am still doing very well and the astonished oncologists made me do a PET scan which did not detect anything suspicious.
The hard times are far behind me … Now I live in anticipation of happy events, thanks to my healing, I am enjoying my great grandchildren."